I am going to be doing some traveling this year for hiking, photography, camping, and fun and the thing that has been missing from my camera bag is a long zoom lens for shooting wildlife or even long focal length landscapes photos. So, I have acquired a Nikon Nikkor Z 100-400 f/4.5-5.6 VR S lens and have been testing it out in anticipation of my upcoming trips. This is a relatively new lens in the line-up, there was a waiting list for it, and I unfortunately wasn't able to get it until the day I got back from Yellowstone, one of the most wildlife rich national parks in the United States. But I did take it for a few shoots around my area to get to know the new lens.
A 100-400mm lens is a telephoto lens and a good range for many wildlife photos; especially for larger animals. There are much more extreme telephoto lenses out there for dedicated sports or wildlife photographers to use, but those are very large and well above my comfortable price range. This lens is easier to handle and afford and much more appropriate for hiking in the wilderness. The "f/4.5-5.6" in the name means that at 100mm the maximum aperture is f/4.5 and this reduces to f/5.6 by the time you get to 400mm. The aperture is a measure of how wide the opening can be that lets light into the camera and affects your shutter-speed and depth of field. The longer the focal length, the larger the lens has to be to keep the same aperture so with telephoto lenses either the apertures get lower to keep the lens manageable and affordable, or the lenses get huge and expensive like what you see on the sidelines at major sporting events. The aperture range for this lens is perfectly fine for handheld outdoor photography in the daytime, though I may be boosting the ISO a bit to get a desirable shutter speed. The "VR" means that it incorporates vibration reduction and "S" is Nikon nomenclature for the class of lens this is (really good, but not pro).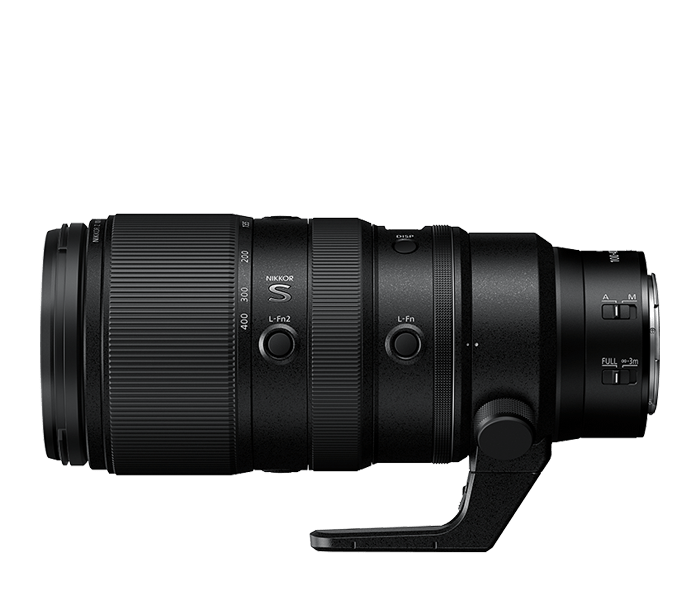 The lens also comes with features like an auto-focus/manual-focus switch which is nice as you don't have to go into camera setting to change that on the fly. There is a switch that allows you to limit the focusing range to greater than 3 meters, which may prevent focus hunting on nearby objects when trying to shoot a distant subject. There are function buttons that you can configure, but by default they work as focus lock and focus mode select buttons which seemed useful to me. There is a control ring that you can configure but it defaults to aperture control. And a display that can show focal length, focus distance, etc. These are really useful features for the most part.
For such a long focal length range, the lens is amazingly light weight and was not really a problem to handhold on a couple of afternoon hikes. The zoom is a nice smooth throw and the autofocus is very fast and accurate with my camera, a Nikon Z7ii. My existing lenses are a NIKKOR Z 14-24mm f/2.8 S for very wide landscape shots and astrophotography and a NIKKOR Z 24-200mm f/4-6.3 VR light weight, general purpose lens with really good image quality. So this lens adds a lot of reach beyond those two lenses. It is also compact enough to fit neatly into my camera backpack with my other gear.
To get an idea of the zoom range that this lens offers, I have three pictures taken below from the edge of a pond at a local park. The first picture is shot at 100mm, the second at 200mm, and the third at 400mm. All shot handheld on an overcast day. I also exported these at low resolution as they are only intended to show scale.
I went to this park because it has a large pond that usually has ducks in it, so I thought I would practice shooting with the lens on some ducks. But the only bird I found in the pond was the Egret in the distance. I walked around the pond and then headed back to the parking lot and found that there were some ducks hanging out in some oak trees. Below is a photo of a Black-Bellied Whistling-Duck that was spending the afternoon up in a tree.
This was shot at 400mm, f/5.6, 1/400sec, and ISO4500. The duck was in some dark shade, so I had to use quite a high ISO setting to shoot it handheld, but the noise wasn't too bad in the final image. The longer the lens you are shooting handheld, the higher the shutter-speed needs to be to avoid noticeable motion-blur from camera-shake in your photo. The general rule is a minimum shutter speed of 1 divided by the focal length, which translates to 1/400 second at 400mm, which is what I shot in the image directly above. The lens does have vibration reduction and the camera also has image sensor stabilization so you can perhaps push it a little slower, but I usually try to stick to the rule as it has worked well for me.
A few days later I went to the wildlife refuge as it is a bird sanctuary and I hoped to try shooting some other birds. It was a sunny day and I slowly and patiently walked around, listening for birds and scanning the trees. I actually had much better luck on this day as not only was the sun out and there was plenty of light, but I saw a lot of birds. Below is an uncropped photo of a cardinal high in a tree shot at 400mm, f/6.3, 1/1250sec, ISO800. Cardinals are easily spooked by people and like to flee and hide in the thick branches. I managed to creep around under a tree and shoot him between the branches. I did have to use the pin-point auto-focus to select the cardinal out of all the branches and leaves.
Another common red bird around here that is often mistaken for a cardinal, is the Summer Tanager. I saw the red bird high in a tree along the trail and was surprised that it wasn't flying away as I approached. As I got it in the view-finder I realized that it wasn't a cardinal and he didn't mind me standing there and photographing in the afternoon sun. The autofocus had no issues with this bird, I just had to wait until he looked in my direction to get his beak out from behind the tree branch. The below image of the tanager is uncropped and shot at 400mm, f/7.1, 1/1600sec, ISO800.
I then came across a tiny Black-Chinned Hummingbird on a branch at about my level. This tiny and kind of funny looking bird confused me at first as the small white patch of feathers directly aft of his eye makes it look like he has a much larger eye. He was nice enough to sit still for me as I focused and shot photos of him. The photo below was shot at 400mm, f/7.1, 1/200sec, ISO800. You can see that I pushed the shutter speed rule and still got good results handheld. The autofocus had no difficulty with the tiny bird against the messy background.
Most birds are small and even with a 400mm lens they don't really fill much of the frame, but shooting with a full-frame 45.7 megapixel sensor does let you do some cropping. The crop below makes a better photo of the hummingbird I think. And shooting at such a long focal length against a distant background gives you a clean blurred back-drop to simplify your image.
I hiked all around the refuge with this big lens and it was noticeable weight, but I wouldn't say it was burdensome. The bigger problem was my foot that is still heeling, but I took it slow and didn't do a lot of climbing. I do have some experience with the lens now, how it focuses, what I can get away with hand-holding, what auto-focus modes work best, and I couldn't be happier. I can't wait to hunt larger game with it later as I get to go on more hikes in some nice parks. Every review I have read about this lens has been a rave review and I can't find anything wrong with it either. I may even use it for a few landscape shots.
Hopefully you will be seeing many beautiful photos taken with this lens on future blog posts. Thanks for reading.